SMX-Manta is a handheld microscope probe primarily designed for testing MTP/MPO and SMA connectors. The probe can be used for visual inspection of the connector end-face for scratches, defects and contamination and for automatic Pass/ Fail testing.
NEW The system is also available with autofocus function (optional). Ask for SMX-Manta+ system.
The probe features a large field of view enabling to test multi-fiber connectors in just two scans taking less than 2 seconds. High resolution of SMX-Manta and its portable design allow for using the probe in a lab and in the field.
Features and Benefits
Large field of view (2.4 x 1.8 mm)
Test MTP/MPO connectors with up to 72 fibers in just two scans, inspect entire ferrule surface including guide holes if needed. Check the whole SMA connector endface in one shot.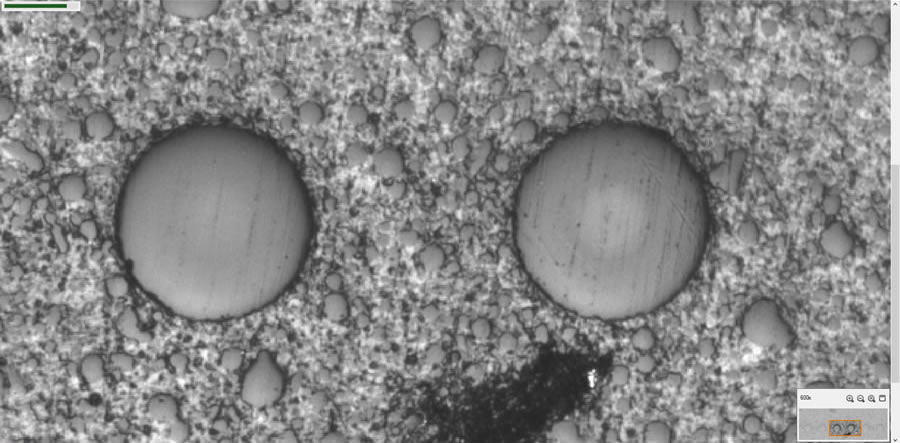 Compact and ergonomic design
Use the probe as a handheld or a desktop unit.

New!

Autofocus*

Minimize operator's actions to just one click.
*available with SMX-Manta+ modification
Detailed high-resolution picture
Enjoy high accuracy testing with 0.75 um defect size detection capability perfect for testing both multi-fiber and single fiber connectors.

Desktop use
Wide variety of tips
Inspect single-fiber, multi-fiber, SMA and other military connectors, both the patch cord and bulkhead side of fiber interconnect.
Extended working distance
Get inside patch panels to test MTP/MPO and other connectors.
Software
The SMX-Manta probe is used with MaxInspect™ software package for visualization, capturing and detection/analysis of connector defects.
Automatic inspection mode
Fast testing procedure saves you time and increases productivity.
Pass/Fail criteria
The software is provided with predefined Acceptance Criteria as standardized by the International Electrotechnical Commission (IEC) for single mode and multi-mode connectors or you can utilize YOUR own Pass/Fail criteria for your specific needs/applications
Detailed analysis of defects
Want to know types, dimensions and other parameters of detected defects? Explore details with MaxInspect™ software.
Detailed inspection report
Store and print your testing results. Mine your data.
Specification
Field of view:
2.4 × 1.8 mm
Defect size detection:
0.75 µm
Optical resolution:
1.8 µm
manual - for SMX-Manta
autofocus - for SMX-Manta+
2592 × 1944 monochrome 1/2.5'' CMOS
800 × 800, 50 fps; 2592 × 1944, 14 fps full resolution
64 × 28 × 233 mm (2.52 × 1.1 × 9.17 inches)
desktop PC, laptop, tablet
Windows 7 Service Pack 1, Windows 10
For viewing measurement results:
Microsoft™ Excel® 2010 or higher
Recommended configuration
High speed, faster image processing, detection, analysis and reporting
Minimal configuration
Reduced speed, slower image processing and detection/analysis of connector defects
Processor:
Intel i5 or higher
Intel Core i3
Video card:
Any with 24 bit True Color
Any with 24 bit True Color
Hardware interface:
Intel integrated USB 3.0 Host Controller.
At least one USB 3.0 port for connection
Any USB 2.0 Host Controller.
At least one USB 2.0 port for connection
Hard Drive:
300 Mb or more
300 Mb
Performance:
500 Mflops or more
400 Mflops
Tablet system requirements
Recommended configuration
Minimal configuration
Processor:
Intel Core i7
Intel Core i5
Screen resolution:
1280 × 800 px or higher
1024 × 768 px
Display size:
10" or more
8"
Hardware interface:
USB 3.0
USB 2.0
Tips and Accessories
All the SMX-Manta accessories for multi-fiber inspection, SMA and single fiber connectors and other accessories you'll find here