SMX-Scopio and SMX-Scopio-B
Digital inspection probes for visualization of connector end faces and analysis of connector defects.
The probes can be used for either bulkhead or patch cord inspection, such as SC, FC, ST, LC, MU, E2000 - PC & APC as well as MT, MTP/MPO, SMA and other military connections.
SMX-Scopio-B is a configuration of SMX-Scopio probe with the external test button.
US $1,995
for SMX-Scopio
US $2,195
for SMX-Scopio-B
Features and Benefits
High-quality optics
Identify defects as small as 0.5 µm.  Evaluate a connector by its visualized surface.
Compatibility
Connect SMX-Scopio to a PC or a laptop with USB 2.0 port.
For more portability, use a tablet.
Long barrel
Need to inspect bulkhead connectors in patch panels? SMX-Scopio long barrel allows you to reach these types of connectors.
Flat surface of the case
Enjoy stability of the device – put it on surface and don't be afraid that it may roll down.

"Finger-friendly" focusing ring and high speed camera
Focus fast and save time on operations. Increase productivity and efficiency of your work.
Aluminum body, stainless steel barrel
Enjoy robustness of the device. Even if the probe is dropped down it maintains integrity. We are confident in quality of our product and provide one year warranty.
Test button (for SMX-Scopio-B version)
Inspect connectors at the push of a button. Fewer movements - less time.
Software
The SMX-Scopio probe is used with MaxInspect™ software package for visualization, capturing and detection/analysis of connector defects.
Automatic inspection mode
Fast testing procedure saves you time and increases productivity.
Pass/Fail criteria
The software is provided with predefined Acceptance Criteria as standardized by the International Electrotechnical Commission (IEC) for single mode and multi-mode connectors or you can utilize YOUR own Pass/Fail criteria for your specific needs/applications
Detailed analysis of defects
Want to know types, dimensions and other parameters of detected defects? Explore details with MaxInspect™ software.
Detailed inspection report
Store and print your testing results. Mine your data.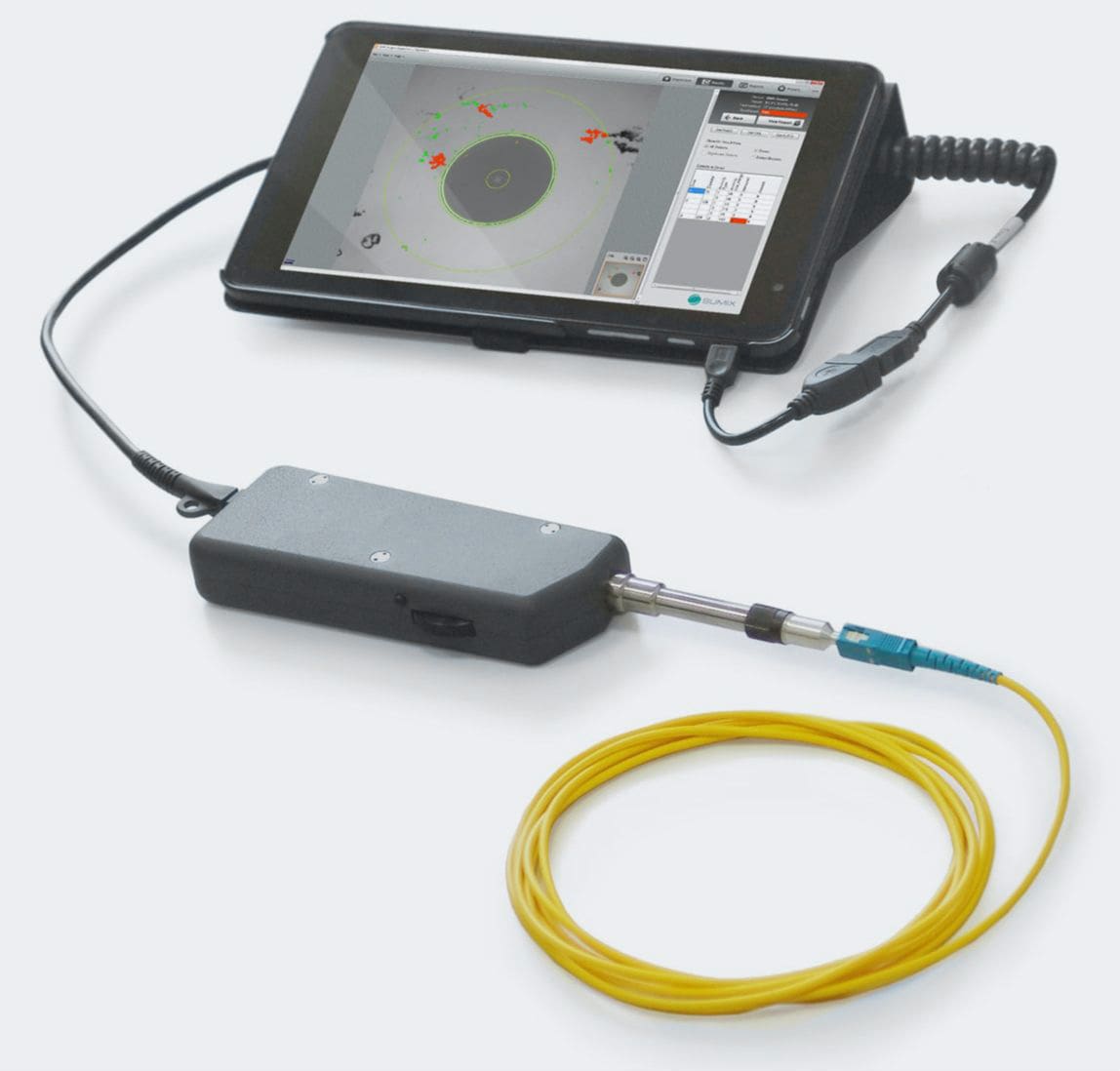 Specification
Field of view:
d = 0.4 mm
Defect size detection:
0.5 µm
blue LED, wave length 470nm
1280 x 1024 monochrome 1/2'' CMOS
800 x 800, 28 fps default 1280 × 1024, 14 fps full resolution
56.3 × 25 × 201 mm (2.22 × 0.98 × 7.91 inches)
Windows 7, Windows 8.1, Windows 10
For viewing measurement results:
Microsoft™ Excel® 2010 or higher
Recommended configuration
High speed, faster image processing, detection, analysis and reporting
Minimal configuration
Reduced speed, slower image processing and detection/analysis of connector defects
Processor:
Intel i5 or higher
Intel i3
RAM:
2048 Mb or more
512 Mb
Video card:
Any with 24 bit True Color
Any with 24 bit True Color
Hardware interface:
Intel integrated USB 2.0 Host Controller.
At least one USB 2.0 port for connection
Any USB 2.0 Host Controller.
At least one USB 2.0 port for connection
Hard Drive:
300 Mb or more
150 Mb
Performance:
500 Mflops or more
400 Mflops
Tablet system requirements
Recommended configuration
Minimal configuration
Processor:
Intel Core i5 or higher
Intel Atom
Screen resolution:
1280 × 800 px or higher
1024 × 768 px
Display size:
10" or more
8"
Hardware interface:
USB 2.0
USB 2.0